Overview of A Half Face Respirator
Half-face respirators are some of the most common forms of masks used in the workplace. They are designed to be worn by people with half of their face covered, usually over a surgical mask or other facial protection. They are typically used for protection from chemicals, fumes, gasses, dust, and gases that can affect the respiratory system. Half face respirator ensures easy breathing through the half of the nose that remains uncovered by its use.
How Does A Half Face Respirator Work?
Half-mask respirators cover your nose and mouth. Elastomeric respirators are made of synthetic rubber and are tight-fitting. These masks can be reused with daily cleaning. These reusable respirators may employ replaceable filters with better efficiency, such as the P100.3, as their filters are interchangeable.
Who Are Half Face Respirators For? Who Should Wear Such Masks?
The Food and Drug Administration (FDA) temporarily allowed elastomeric respirators in healthcare settings due to a shortage of disposable N95s during the COVID-19 pandemic.
It includes law enforcement officers, firefighters, EMS providers, utility and critical infrastructure workers, and government employees. According to OSHA 1910.134 and Australian Regulation Association (ASA Group) standards, a respirator requires a defined breathing program.
This standard stipulates that respirator users must have medical clearance to wear a respirator and be fit tested for the size and model of respirator they are using it.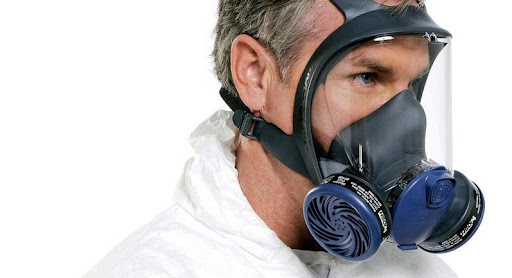 Stocking up on reusable respirators to increase your N95 stockpile is also an excellent idea for any emergency response preparedness strategy, as elastomeric respirators can be used in various situations.
Filter interchangeability is particularly beneficial in this situation, as you can equip your respirator with a suitable filter for various hazards.
Reusing A Half Face Respirator Along with The Benefits- Points To Note
Yes, Cleaning, reusing, and decontaminating elastomeric respirators are all possible. As a result, a single elastomeric can replace hundreds or even thousands of disposable N95 masks.
Because they can be cleaned and reused, they take up a fraction of storage space, are cost-effective, and offer flexibility in disaster response preparedness because their filter cartridges are replaceable.
In fact, during the COVID-19 crisis, the Allegheny Health Network ("AHN") responded to the growing demand and cost of N95 by purchasing industrial elastomeric half-mask respirators with disposable P100 filters to reduce their reliance on N95 masks.
The sizable academic hospital network found that it could reduce the amount of N95 masks needed by up to 95% in just one month. Cost reduction, less storage space required, and high-efficiency changeable filters are all advantages of reusable semi-mask respirators.
Benefits of Using Half Face Respirators
Below highlighted are some benefits of using half-face respirators which are as follows-
• The half-face respirator is a lightweight, efficient, and cost-effective half mask. It is perfect for jobs where workers are exposed to various risks such as high concentrations of smoke, haze, and gases from one job to another.
•The half-face respirator provides optimum protection and exceptional wearing comfort thanks to its unique MultiFlex system.
The flexible, elastic blend of rubber and plastic delivers a customized, pressure-free fit that instantly conforms to the wearer's facial features.
•The half-face respirator is available in three sizes and has a full complement of cartridges and filters to keep hazardous particles and gases away.
Conclusion
Finally, respirators are used when it is dangerous to breathe the air around you. Full-face respirators cover the whole face and head while half-face ones cover only one side of your face. A half face respirator can also be called dust masks because they cover just your nose and mouth. So, what makes you wait to buy one?
Read also: Why People Love Contact Lenses Over Glasses