Nudie Jeans Review- Best Jeans With A Purpose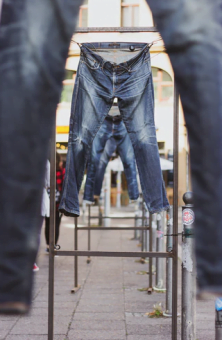 Nudie Jeans Co. is a Swedish jeans company founded in 2001 in Gothenburg, Sweden, and made generic jeans until 2011 when they revolutionize the way we wear jeans. Nudie Jeans Review tends to claim that the jeans we bought from them can be repaired after six months. They also have a philosophy, to not wash the jeans for those six months.
With a wear and tear way of thinking, they certainly have made buying jeans more fun. The Swedish denim company has recognized for its work with sustainability and the environment. They laid their landmarks in many countries like Germany, Norway, Netherland, United Kingdom, Italy, etc.
According to Nudie Jeans Review, they believe in manufacturing organic clothes. They do this by using sustainable fibers to save the environment and provide longer life to their jeans.
Nudie Jeans Review- Impressive Designs
When you see their website for the first time, you will get surprised with the types of jeans they have listed. The range of styles they have fits all men and women. From tight jeans with stretch to slim, regular, and relaxed, you'll find everything. The website is pretty simple, with prices reasonable to your pocket. Buying is simple; just have to choose your fit and then your waist size. Then decide the length you want and do.
You can buy different fits like straight sally, breezy britt, clean Eileen, skinny linn, tight terry, and many more. But the most bestselling option is the regular slim ones. Lean dean and grim Tim are the fits to buy for an average man or woman. They go perfectly with pretty much everything.
Nudie Jeans Review – Fashion enthusiast likes their tuff tony, which comes under the loose category. These do not come in many colors, but enough styles to show up. In the women's department, clean Eileen fit is very famous. It comes in great colors like gentle fade, pure navy, shimmering black, brown cord, and off-white.
Other than jeans, Nudie also has some great options in shorts, denim jackets, tees, shirts, sweaters, and knits. They have also started selling comfortable underwear and socks made up of 100% cotton fiber.
Nudie Jeans Review- Exclusive Free Repairs Forever
When you buy any jeans from Nudie, the jeans come with a promise of free repairs. As jeans are meant to be worn a lot. Nudie jeans are rough and tough with the organic cotton they use, but they are not Armor. The brand wants to go to the nearest repair shops and get a new version of the old favorite.
The main idea behind the Nudie Jeans Repair Shops is that they have come up as the hubs for your jeans for repair. They can also be resold second-hand or even donated to the Nudie Jeans recycling program. In 2019, Nudie Repair Shops repaired over 64,000 jeans. It saves the environment from not wasting resources like cotton, water, and electricity.
Nudie Jeans Review- Building A Healthy Environment
Nudie Jeans create timeless designs. The brand is focused on longevity and makes clothes that people love. 94% of all the fibers used in their clothes are cotton, and they are proud to say that Nudie only works with Organic and Recycled cotton.
The organic cotton used is the cotton produced without ant toxic chemicals. It helps in keeping biodiversity safe. Nudie always keeps looking for more sustainable ways to process jeans, which makes them more worthy.
Find More Clothing Review Articles
What are the payment methods accepted by Nudie Jeans?
They accept all major cards like Visa, MasterCard, American Express, and Maestro. They also accept PayPal.
Can we return our orders?
Yes, you can return them within 14 days, provided the items are in their original condition.
Does Covid-19 affect any order or return?
No, Nudie Jeans Review say they tend to keep shipping orders to their customers.