GSK boosts FY22 outlook, Q2 sales soar on Shingrix, Specialty drugs; impact on COVID sales
[ad_1]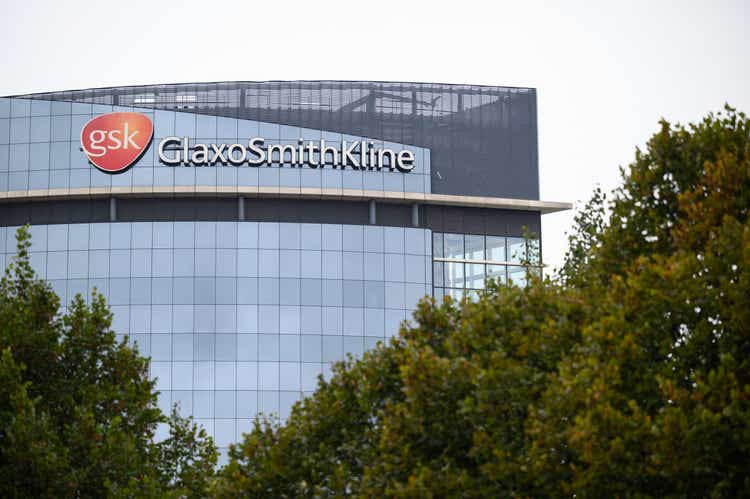 GSK (NYSE:GSK) Q2 sales grew on the back of growth in Specialty Medicines, including HIV, and shingles vaccine Shingrix, prompting the company to raise its FY22 sales outlook.
Q2 Non-GAAP EPS rose +23% Y/Y (at AER) to £0.347, while total sales grew +19% Y/Y to ~£6.93B.
The company said the rise in Group turnover reflected a strong performance in Commercial Operations in the three product groups.
"This is GSK's first set of results as a newly focused biopharma company, and we have delivered an excellent second quarter performance, with strong growth in Specialty Medicines, including HIV, and a record quarter for our shingles vaccine Shingrix," said said GSK CEO Emma Walmsley.
The company said that from Q2 2022, the Group presents Haleon business as a discontinued operation. GSK's much awaited consumer healthcare business spinoff Haleon saw its first day of trading as a separate entity on the London Stock Exchange on July 18.
Specialty Medicines grew +44% Y/Y to ~£2.70B. Sales of COVID-19 therapy Xevudy, which is developed by GSK and Vir Biotechnology (NASDAQ:VIR) were ~£466M.
GSK noted that majority of expected COVID-19 solutions sales for 2022 have been achieved in H1 and based on known agreements with governments, it expects sales of COVID-19 solutions will be substantially lower in H2.
The British drugmaker said HIV sales increased +14% Y/Y to £1.40B with growth up, while Oncology sales rose +29% Y/Y to £154M.
GSK added that Immuno-inflammation, Respiratory and Other sales grew +32% Y/Y to £680M.
Sales of asthma therapy Seretide/Advair declined -24% Y/Y to £262M.
Vaccines segment grew +9% Y/Y to ~£1.72B Y/Y. The company said Shingrix sales more than doubled to £731M mainly due to demand recovery, strong commercial execution aimed at shifting the shingles vaccination season forward, and earlier-than- expected channel inventory build in the U.S, and higher demand in Germany.
For Shingrix, the company expects strong double-digit growth and record annual sales in 2022.
General Medicines segment sales grew +5% Y/Y to £2.51B, with the impact of generic competition in the U.S., Europe, and Japan offset by Trelegy growth in respiratory and the post-pandemic rebound of the antibiotic market since Q3 2021 in Other General Medicines.
Trelegy Ellipta sales increased +60% Y/Y to £467M.
Q2 adjusted operating profit grew +22% Y/Y to £2.01B. Cash flow from operations attributable to continuing operations increased +17% Y/Y to 1.58B.
Dividend: GSK said dividend of 16.25p/share (13p before Share Consolidation) was declared for Q2. The company added that there was no change to expected dividend of 61.25p/share (49p before Share Consolidation) for FY 2022.
Outlook 2022:
"With this momentum in sales and operating profit growth, we have raised our full-year guidance and are confident in delivering the long-term growth outlooks we set out for shareholders last year," said Walmsley.
The company however noted that predominantly reflecting a more challenging H2 2021 sales comparator and an expected increase in R&D spend, it expects lower reported growth in H2.
The company expect full year 2022 sales growth between 6% to 8% (previously 5% to 7%) and Adjusted operating profit growth between 13% to 15% (previously 12% to 14%); both at CER.
GSK expects adjusted EPS to grow by around 1% lower than operating profit. The company note that the 2022 guidance excludes any contribution from COVID-19 solutions.
The company expects Specialty Medicines to grow ~10% CER and sales of General Medicines to show a slight decrease, mainly due to generic competition for established Respiratory medicines. Vaccines sales are now expected to grow at a low to mid-teens percentage at CER for the year.
[ad_2]
Source link